CES & THE Show 2013 • TABlog
by Dennis Davis | January 15, 2013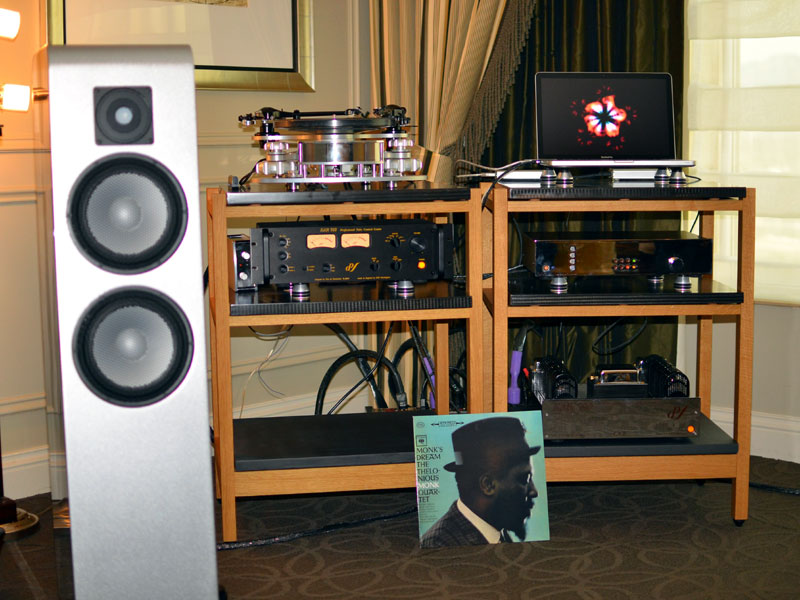 I can always count on great sound and music in the EAR room, with Tim de Paravicini and US distributor Dan Meinwald spinning LPs and hard drives. This year I was looking forward to hearing the production model of EAR's SACD player, which I heard in prototype form at last year's CES. Unfortunately, UPS sent the unit astray, and Dan substituted the EAR Acute DAC ($6575) in its place. But it was the sound of vinyl on the EAR Disc Master turntable ($28,000), with two Helius Omega tonearms ($3100 each) and Dynavector XV-1s phono cartridges ($5450 each) that stole the show. Marten's new Django L speakers ($9000 per pair) driven by an EAR 890 amplifier ($8295) and EAR 912 preamplifier ($13,000), everything connected by Jorma cabling, finished off the system.
I don't need to bring vinyl to the EAR room because Dan always has lots of discs I know very well. This time, however, it was a new release that stole the show. The new Impex reissue of Thelonious Monk's Monk's Dream was one of the finest aural experiences of the show for me. Great music and a great system added up to one happy listener.
EAR components would receive far more press if Tim de Paravicini would just change models more often, but it seems he doesn't have to.