CES & THE Show 2013 • TABlog
by Tim Aucremann | January 17, 2013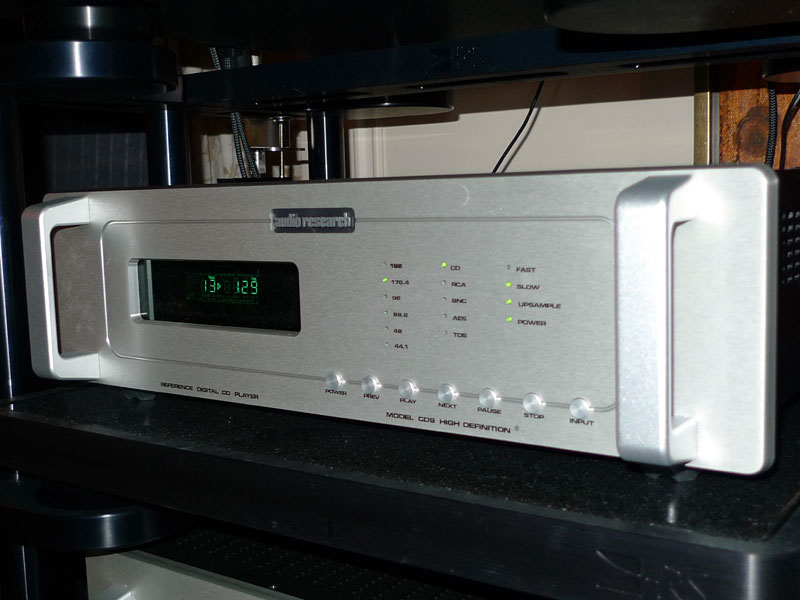 Show sound is not a constant. It varies over the course of the event, as I discovered with products I know well.
After the show opened, I went looking for the new Audio Research Reference CD9 CD player and found the only pre-production prototype available on planet CES (or any other planet). Audio Research was out in force under the Fine Sounds Group banner with their new pals from Sonus faber, whose big Aida speakers ($120,000 per pair) were featured in a biamped configuration with the Audio Research DS450M monoblocks ($5495 each) on the bottom and the superb Reference 250 tube monoblocks ($12,995 each) handling the mids and highs. Up front was a bevy of Audio Research Reference electronics, including the Reference DAC ($15,995), Reference 10 preamp ($29,995), and Reference Phono 2SE phono stage ($12,995). Power and signal were compliments of a full loom of Shunyata Research Zi-Tron cables along with a Triton'n'Typhon power-conditioner stack (a review of which I'm working on). Just when I finally located the CD9, Dave Gordon of Audio Research informed me, "Of course, there is no spec sheet." But there was a price, and it will be $12,995.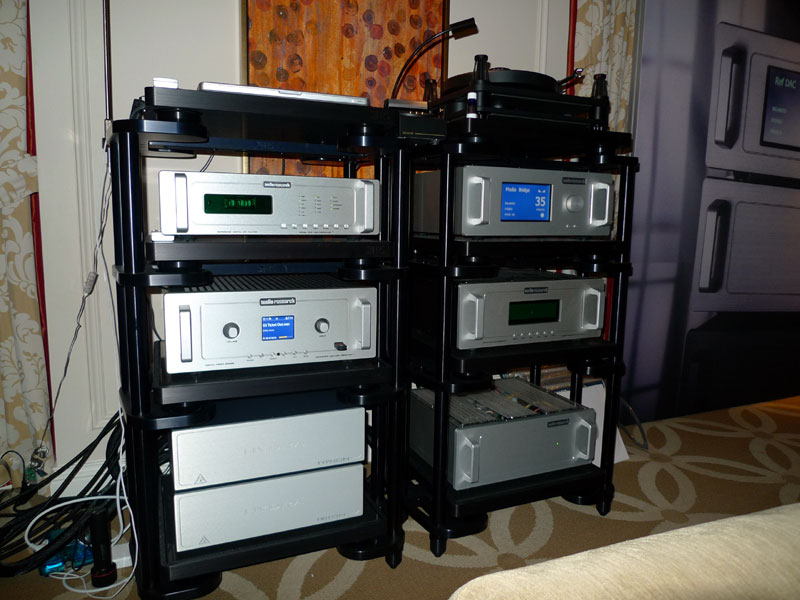 The CD9 is a bridge product: astride the physical-media world of CDs and the streaming world of high-rez downloads. Audio Research gifted it with the same digital-to-analog converter used in their Reference DAC, which means the unit will play just about any digital format and resolution known today, as well as physical Red Book discs. The '9's front panel has a bevy of sampling-frequency indicator LEDs that range from 44.1 up to 192kHz, with stops along the way at 48, 88.2, 96 and 176.4kHz. Input indicators include CD, RCA, BNC. AES and TosLink (BNC was a misprint and will be USB on the production model).
Easily the most space-fulfillingly, dimensional performance for my ears on day one was this Sonus faber/Audio Research rig playing Lucia Popp and Dame Kiri Te Kanawa singing "The Letter Duet" from The Marriage of Figaro. Through the Aidas, the sound was big -- bigger than life even -- but the sumptuous harmonic richness of two of the finest sopranos of their time blending together in a Mozart melody was achingly gorgeous even at CD's stingy 44.1kHz. And though they sang within a couple feet of one another, the CD9 and Reference 10 smartly parsed each singer side-to-side and front-to-back as they weaved their song over each other's shoulders and shifted about the stage. I heard as near-perfect a balance between singers and orchestra as I've experienced with this performance.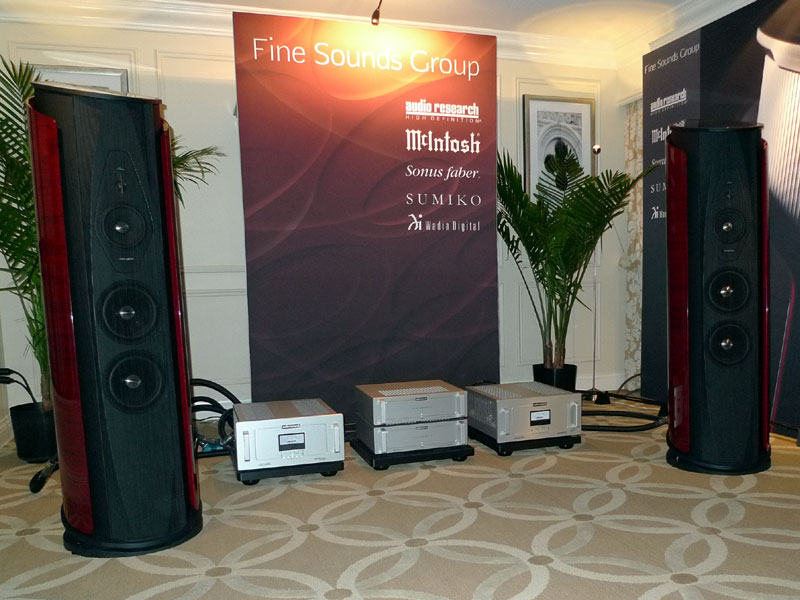 Dynamics were easefully natural and quick, with none of the forward aggressiveness that smacked me in the gut in far too many rooms playing far too much audiophile-grade muzak with way too much reverb. Bass is the bane of show demos, and the lowest lows of this system, though never weak or flaccid, were a wee bit disconnected from what came above, though I may have been sitting too close for optimal driver integration. Otherwise the frequency balance was delightfully delightful for such big speakers in a room on a diet. Hearing what I heard from my own sampler CD-R and seeing all those lights festooned across the front panel, I predict the CD9 will be another important product from Audio Research, which seems to be having its best century yet.
But that's not where this story ends. I returned to the room on the final day of the CES and the system had sorted out and settled down. Gone was the faint discontinuity I heard in the opening hours of day one. My experience says more about the issues that come from hauling gear around and doing a complete setup in an unfamiliar space than anything else. Bravo to the manufacturers who go through this. Despite being tired and at show's end, I would have been happy to stay longer, listening to more music here.