CES & THE Show 2013 • Best of Show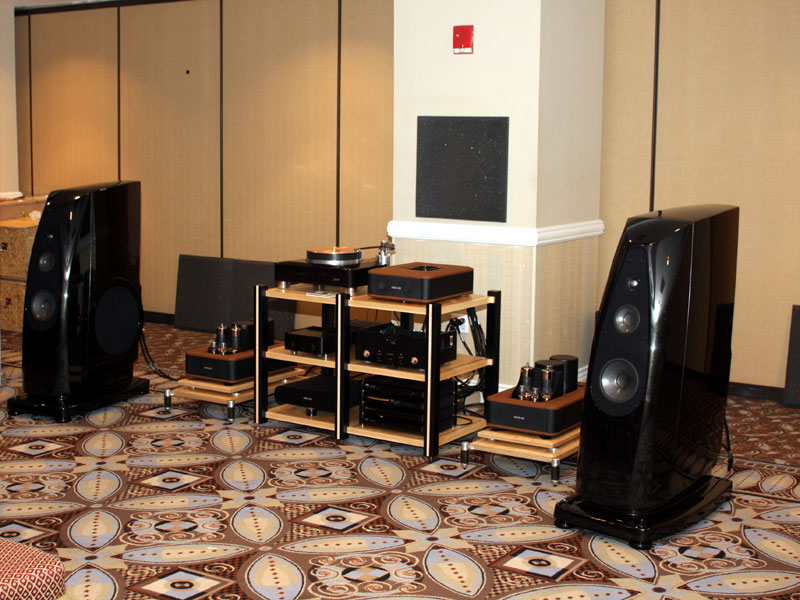 It has been at least five years since we last heard the Rockport Altair speakers ($97,500 per pair) -- back then at THE Show when it was still held at the St. Tropez -- so the chance to hear them again, this time paired with Absolare's Passion 845 monoblocks ($37,000 per pair) and Passion preamp ($25,000), was too good to pass up.
The room was closed down for the first two days, however, as the amplifiers hadn't arrived yet, so we made the trek back to the Flamingo on day three exclusively to hear this system, and we weren't disappointed. The sense of low-end authority that the Altairs possess was a strong memory, but in a much larger room they showed great ability to sort out instruments and singers in space -- and quite a lifelike space it was. The room, with its false walls and many reflective surfaces, was far from ideal, yet the speakers were able to energize the room without its issues becoming obstacles to even decent sound. Driving the Altairs, the Absolare Passion 845 monoblocks seemed endlessly powerful, though they output just 52 watts each.
Digital was from MSB and included a Signature Data CD IV transport ($7995), Diamond DAC Plus with FEMTO Second Galaxy Clock ($38,950), Signature Transport Power Base ($3495) and Diamond Power Base ($5995). Echole Obsession Signature interconnects ($7500 per six-foot pair) and power cords ($6900 per six-foot length), along with Echole Passion speaker cables ($6000 per eight-foot pair) finished off the system -- almost. Our only regret was not hearing some analog here, as Steve Dobbins' Kodo The Beat direct-drive turntable ($24,000) with Reed 3P tonearm ($6500) and Lyra Atlas cartridge ($9500) along with Allnic H-3000 phono stage ($11,900) were part of the system. We only hope it won't be five more years until we get to experience all of that.