CES & THE Show 2012 • Best of Show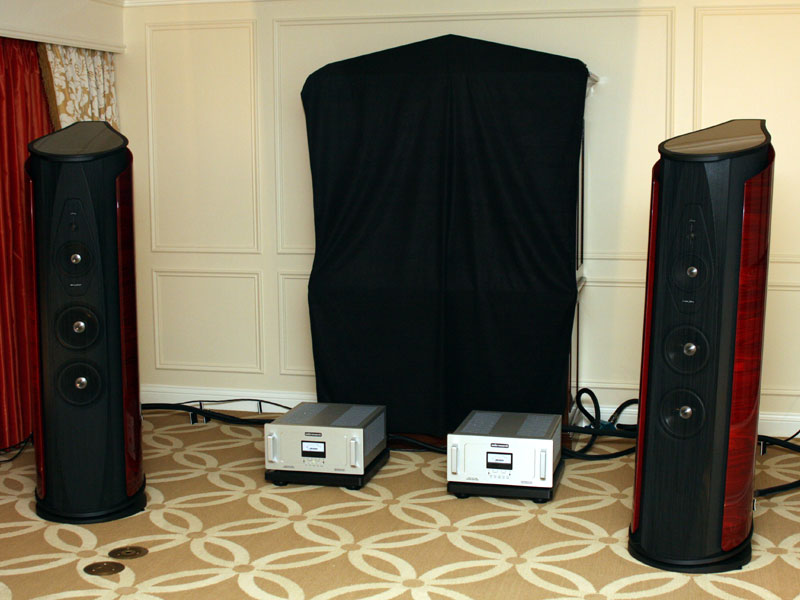 Getting a seat to hear one of the more popular systems -- let alone getting to hear your own music with it -- can sometimes mean visiting several times over the course of the show. This was the case with the demo featuring a collection of Audio Research Reference electronics and Sonus Faber Aida speakers, which we finally were able to hear at length in the closing moments of the show. The speakers, which cost $120,000 per pair, were another large, very expensive floorstander that lived up to pre-show expectations, sounding less over ripe and cloying than other Sonus Faber speakers we've heard -- and more resolute and spacious as a result.
Of course, the Audio Research electronics played a rather large role as well. Reference 250 mono amps ($25,990/pair) seemed made for the Aidas, while a DAC8 ($4995) and Reference Phono 2 SE ($12,995) handled digital and analog, respectively, displaying power and liquidity with CDs and LPs. The new Reference 5 SE line stage ($12,995) was also in use. Sources included a MacBook for digital and an SME Model 20/3 turntable with Series V tonearm ($17,000) and Sumiko Palos Santo Presentation cartridge ($3995) for analog. Shunyata Research PowerSnake Series Anaconda interconnects and speaker cables were part of the system, as was a Shunyata Hydra Triton power conditioner.
This system had a very detailed, animated midrange, giving it a magical way with voices. One of Paul Bolin's demo cuts, Julie Driscoll and Brian Auger doing "Light My Fire," was memorable -- just the way to close our listening at CES 2012.