Chess Boxing with a Craz²
by Marc Mickelson | June 3, 2010
s the name implies, chess boxing is the peculiar combination of playing chess and boxing. It's an actual sport with rules and a reigning champion. It tests the combatants' physical stamina and ability to take a beating while retaining the mental sharpness to bring their knights out at the right moment. Audio reviewing sometimes does the same thing. Uncrating a pair of massive floorstanding speakers requires strength and determination, especially when you know that at a point a few months in the future they will be crated up again. Between their arrival and departure, you must focus your attention in order to figure out what they're about, and then find just the right words to describe them.
Craz 4 Reference in all its glory.
I've been on the receiving end of a beating from pairs of enormous Wilson Audio, Vivid Audio and Verity Audio speakers, but none of them has worn me down physically like the four-story equipment condo I received from Silent Running Audio. A Silent Running rack has been the literal centerpiece of my audio system for a number of years, and late last year Kevin Tellekamp, the head of the company, made me an offer I couldn't refuse. He had a customer with a Craz 6 Reference isoRack plus -- a double-wide model that can hold six pieces of audio gear -- but system changes made space for two components superfluous. So the owner decided that a Craz 4 -- four shelves, each holding a single piece of equipment -- would suit him perfectly, and he put in an order for one.
Kevin remembered that I had just the rack the customer wanted, so he offered to broker a trade -- Craz 4 for Craz 6. I eagerly accepted.
The Craz 6 arrived -- four crates and 400 pounds -- and I set about doing the rack swap, the most onerous, backbreaking labor that I've ever done in the name of high-end audio. Aside from having to disconnect my entire system, I had to unpack one rack and pack up another. In the case of Silent Running racks, this is especially difficult because the main structure is one piece, except for the shelves, which are large and as heavy as slabs of concrete. The whole thing took me the better part of two days, but I was very happy with the new rack, which gave me shelf space for more audio gear.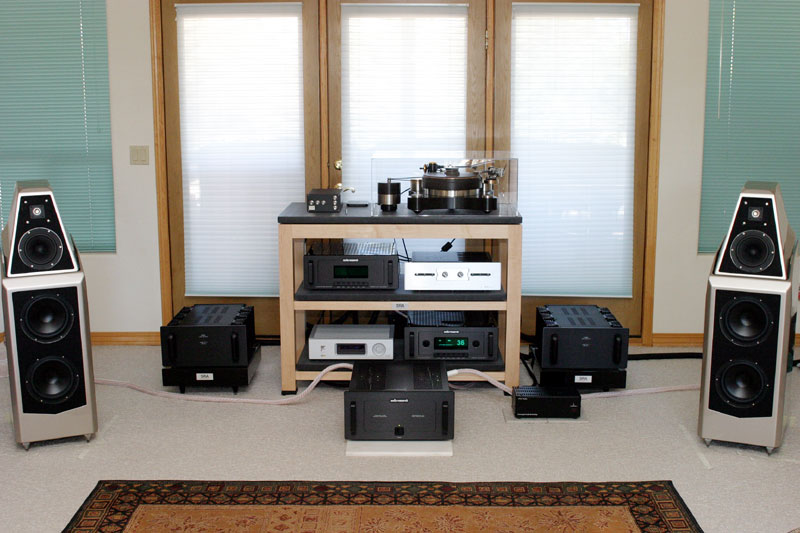 Craz 6 Reference fully loaded.
When Kevin asked how I liked the new rack, I made a seemingly innocent comment: "When my lottery numbers come in, I'm buying a double-wide four-shelf Craz. I love having the extra room." I thought nothing of it until Kevin called me a few weeks later.
"Were you serious about a Craz 8?" he asked.
"Sure, but -- "
"If you're interested, we'll make one for you to review. We've made a few upgrades, and we're calling the new rack the Craz²."
The memory of The Great Rack Switch of '09 immediately caused a spasm in my back.
"Ah, when do you think you would ship it?" I asked sheepishly. I was hoping for at least a couple of months.
"We're really busy, so it'll be well into 2010."
I had survived the first round and had moved my bishop to a threatening position. The second round would prove to be much more fierce.
"About 800 lbs. are heading your way!" Kevin wrote to warn me in early May. A few days later, two massive crates showed up. You could ship yourself anywhere -- comfortably -- in the crate for the rack. The shelves came packed in a low-slung carton attached to its own shipping palette because of its extreme weight.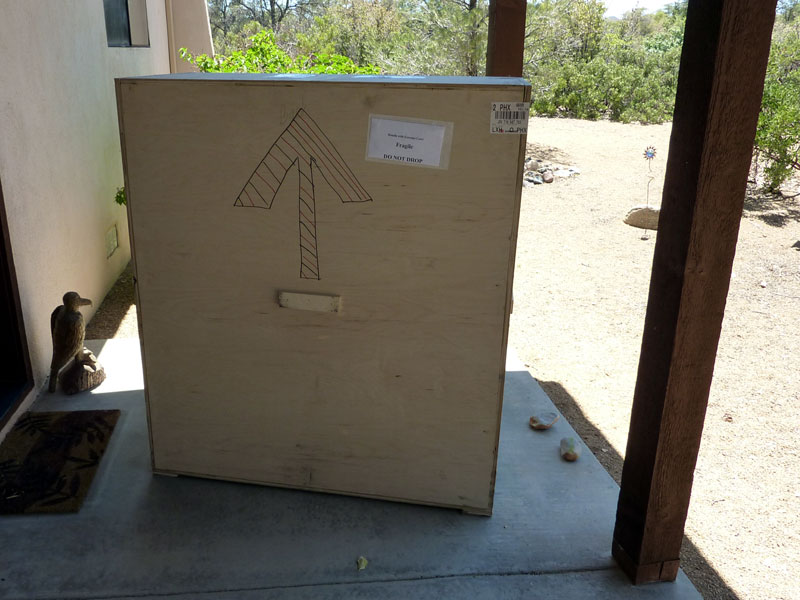 Luckily, both shipping containers were designed with getting their massive contents out in mind. The larger crate opens sort of like a clamshell, making it possible to lift the rack out from the front. I have described the crates in which Silent Running Audio ships its shelves as "puzzleboxes," because of their clever series of inner braces. These hold the shelves in place, but they're removable, so you can lift each shelf out rather easily.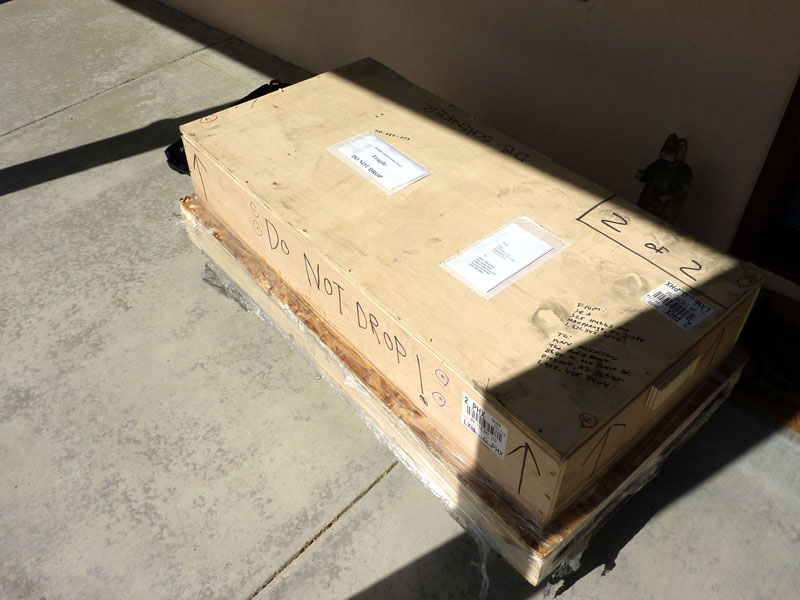 Well, maybe not "easily." The shelves for the new Craz² are heavier than those for the Craz Reference, and when they're double the width, they're heavier still. Getting the rack out of its cocoon required some forethought, given that I was going it alone. I rigged up a system of furniture sliders and a piano dolly, and got the rack into the house without a scratch.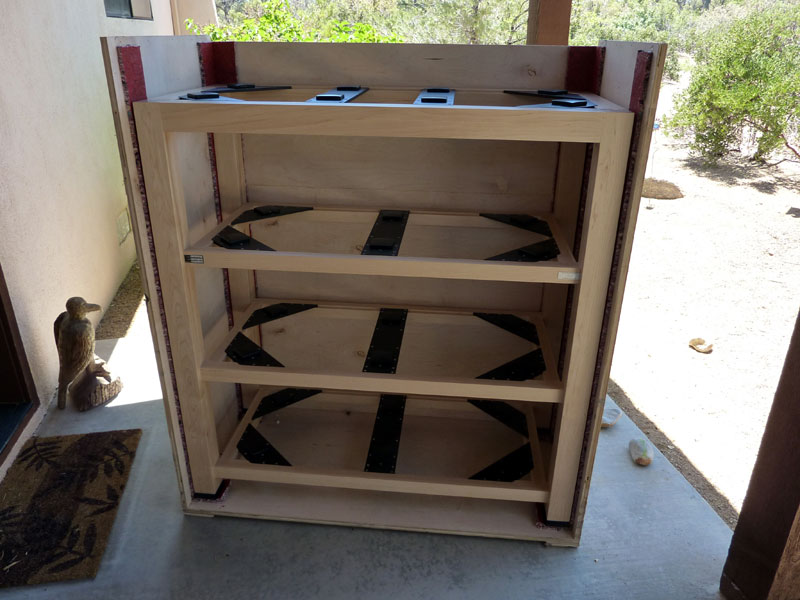 I knew where the Craz² was going to rest; it dropped right into the holes created by the spikes of the Craz 6 Reference. Because a turntable was going on the top shelf, I needed to level the rack, which is tedious -- lift, adjust a spike, check level, repeat. The Craz² I received had an inch or two of extra space between the shelves. It is an extra tall rack, so lifting my TW-Acustic Raven AC turntable, which weighs at least 100 pounds, onto the top shelf was all the more difficult. I did it in one energy-zapping heave, being careful not to ding the rack with the 'table and thereby damage both.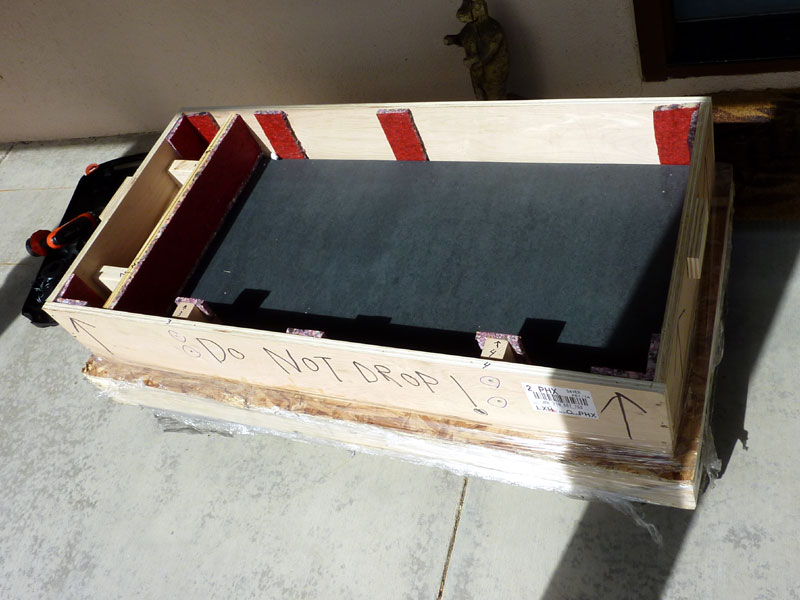 A rack such as the one I received costs $13,000 to $15,000, depending on the choice of wood and finish. Silent Running uses only premium-grade air-dried hardwood. Changes to the Craz² occur "top to bottom," according to Kevin Tellekamp. I'll discuss them all in my upcoming review.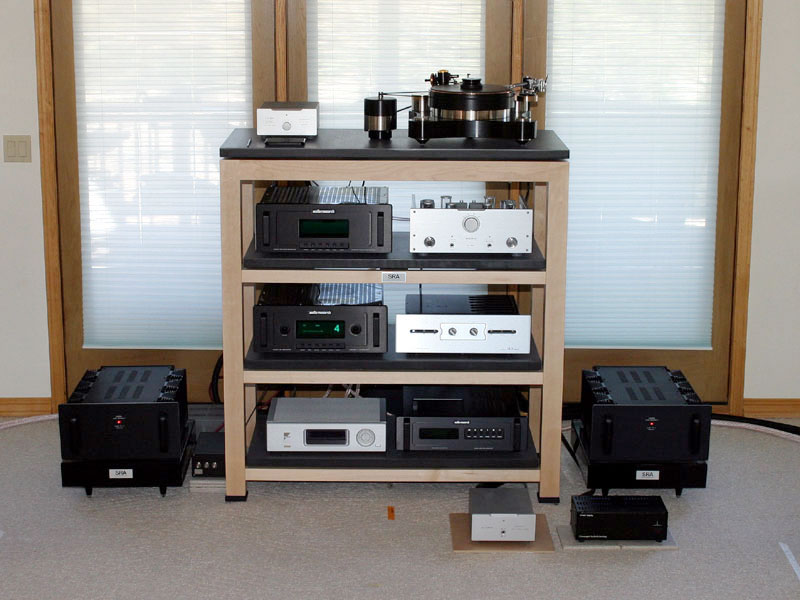 I felt a glow of satisfaction as I admired my handiwork. The Craz² was laden with audio gear -- turntable, two phono stages, two preamps and two CD players. I had the king in the crosshairs between my queen and rook, and I was moving in.
Then a sharp right to the chin reminded me that the bout wasn't over. The Craz 6 Reference and shelves were at the other end of the room, waiting to be packed up, and the crates for the Craz² needed to be reassembled and stuffed into the garage.
More grunting, more thinking, before any listening.