Get Your Deccas Here
by Marc Mickelson | February 10, 2012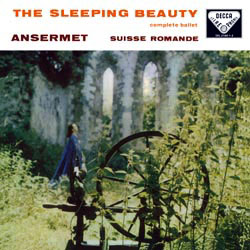 ot to toot my own tweeter, but I've been moderately successful over the past few years at finding interesting and valuable LPs for very little money. The hunt is half the fun, as they say, and I've had a lot of fun dredging up original jazz and blues titles at thrift stores and garage sales, including a handful of Blue Notes, the Cadillac of vintage jazz recordings. I've been even more successful with classical LPs, accumulating dozens of RCA Shaded Dogs (including a copy of Gaîté Parisienne [RCA LSC-1817] and two copies of Sheherazade [LSC-2446] for which I paid less than a dollar), along with many London Blue Back and Mercury Living Presence LPs, and various others that would bring prime dollar if I decided to sell them.
All of this went through my mind as I relaxed during CES with Kai Seemann and Christiane Waldmann, the husband-and-wife team that runs Speakers Corner Records. Over afternoon tea and snacks, we chatted about the business of creating LP reissues and specifically about Speakers Corner's newly relaunched series of Decca SXL titles. As we talked, I made a mental inventory of my LPs back home and realized that I have never found even one Decca classical title on the cheap -- not even an unpopular one -- even though I have seen them in used-record stores. So from this focus group of one, Kai and Christiane's idea of re-releasing some choice Deccas seemed especially shrewd.
Decca was acclaimed for its stereo recording technique, which engineers Arthur Haddy, Roy Wallace and Ken Wilkinson debuted in 1954. It made use of the "Decca tree," a stereo microphone system for recording orchestras that was responsible for the big, vivid sound for which the label became known. Speakers Corner isn't new to reissuing Decca SXLs. For nearly ten years, the label offered many, and did so in the most genuine way possible: using the master tapes, which were stored in the UK, and Decca's own cutting engineer, Tony Hawkins, for the creation of the lacquers. That ended in 2002 because Decca closed its recording center in London and Tony Hawkins retired. The Decca equipment was sold and the tape library moved to Germany. "At that time," Kai and Christiane relayed, "it seemed impossible to get tapes, equipment and cutter to the same place at the same time again."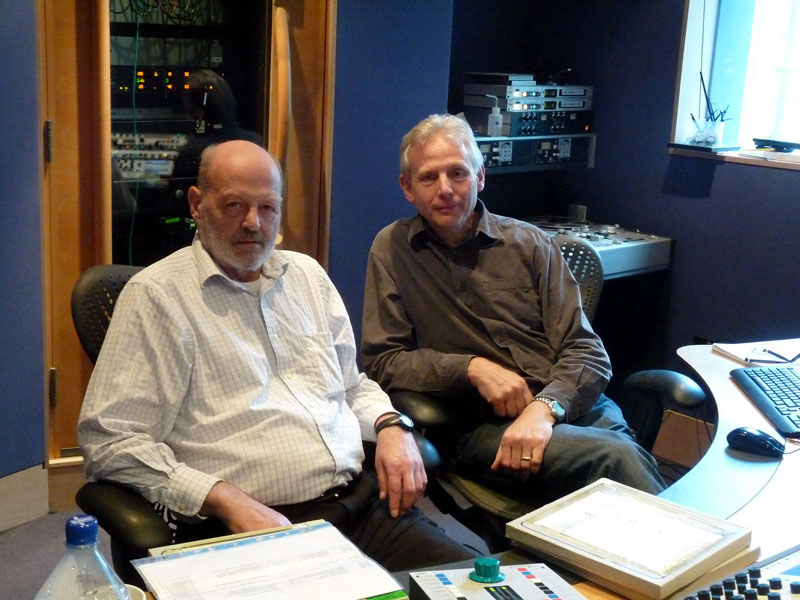 Tony Hawkins (left) and Ray Staff.
But then the musical planets realigned. Speakers Corner has had a long collaboration with Ray Staff at Air Mastering in the UK. He let Kai and Christiane know that the Decca equipment had resurfaced and Air planned to buy it. "Nobody knew where this had ended up, so it was good news that especially the Decca-modified tape machine came back to the surface again," said Kai. Next, they contacted Tony Hawkins to see if he was willing to work on a freelance basis, and although he was not in the best health, he agreed.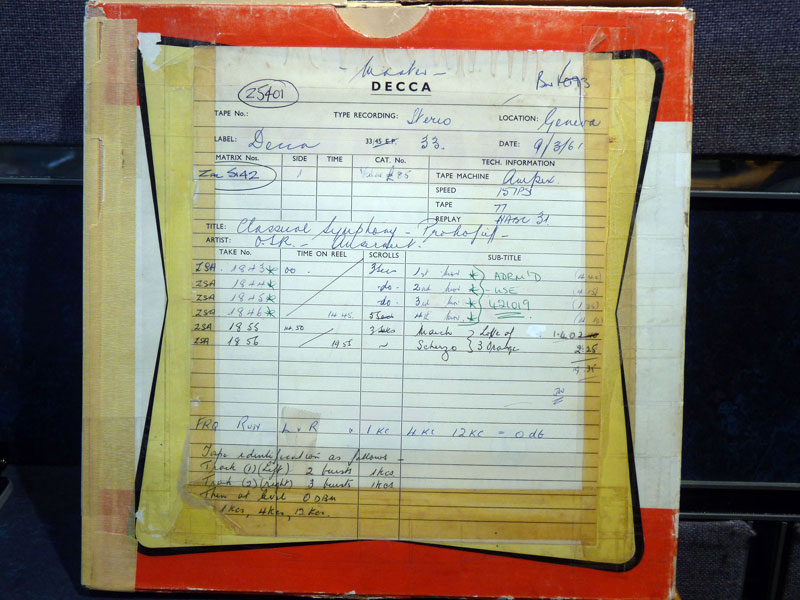 The Decca master tapes played hard to get.
A major obstacle became getting the original master tapes back to the UK, requiring months of negotiations. However, in the middle of 2011, Speakers Corner was able to once again begin creating Decca SXLs "like in the old days: from the very original analog master tapes on Decca equipment by a Decca engineer."
The first title, which has been available for a couple of months, is the three-LP set of Tchaikovsky's The Sleeping Beauty [Decca SXL 2160-62] from Ernest Ansermet and the Orchestre de la Suisse Romande -- Decca's oft-used conductor-and-orchestra pairing. Others titles in the works over the next year are:
| | |
| --- | --- |
| Sibelius Song Recital: various works by Jean Sibelius; Kirsten Flagstad and the London Symphony Orchestra conducted by Øivin Fjeldstad [Decca SXL 2030]. | |
| Sergei Prokofiev: Symphonie classique / Mikhail Glinka: "Kamarinskaya" Fantasia, Overture from "A Life For The Czar" / Alexander Borodin: In The Steppes Of Central Asia; Orchestre de la Suisse Romande conducted by Ernest Ansermet [Decca SXL 2292]. | |
| Igor Stravinsky: Symphony In C (1940), Symphony In Three Movements (1945); Orchestre de la Suisse Romande conducted by Ernest Ansermet [Decca SXL 2237]. | |
| Maurice Ravel: Shéhérazade / Hector Berlioz: Les Nuits d'Eté; Régine Crespin and the Orchestre de la Suisse Romande conducted Ernest Ansermet [Decca SXL 6081]. | |
| Antonín Dvorák: Symphony No. 8 (No. 4), op.88 & Scherzo capriccioso, op. 66; London Symphony Orchestra conducted by Istvan Kertész [Decca SXL 6044]. | |
| The Art Of The Primadonna: Joan Sutherland sings arias from operas by Thomas Arne, Vincenzo Bellini, Leo Delibes, Charles Gounod, Georg Friedrich Händel, Giacomo Meyerbeer, Wolfgang Amadeus Mozart, Gioachino Rossini, Giuseppe Verdi [Decca SXL 2256/7]. | |
| Georges Bizet: Carmen Suite, L'Arlésienne Suite; Orchestre de la Suisse Romande conducted by Ernest Ansermet [Decca SXL 2037]. | |
| Franz Schubert: Octet in F major, D 803; The Vienna Octet: Willi Boskovsky, Philip Matheis (v); Günther Breitenbach (va); Nikolaus Hübner (vc); Johann Krump (b); Alfred Boskovsky (cl); Josef Veleba (h); Rudolf Hanzl (bs) [Decca SXL 2028]. | |
| Richard Strauss: Elektra; Marie Collier, Birgit Nilsson, Regina Resnik, Tom Kraus and further soloists - Vienna Philharmonic Orchestra conducted by Sir Georg Solti [Decca SET 354/5]. | |
We audiophiles prize authenticity, and these LPs are created as authentically as reissues can be. Furthermore, they are pressed at Pallas on 180-gram vinyl, ensuring inky-black backgrounds, and Speakers Corner scanned original covers in order to re-create the artwork of each release. Kai and Christiane will initially press 1000 of each title, so get them while you can, before you're wondering why you can't find them anywhere.