First Sounds: Shunyata Research Hydra Triton v2
by Tim Aucremann | July 7, 2015
aelin Gabriel, head of Shunyata Research, seems unable to leave well enough alone in his quest to maximize on-demand current throughput, what he calls "dynamic transient current delivery" or DTCD for short, while seeking ways to further reduce high-frequency electrical noise at whatever point it tries to enter a system's power-distribution complex. The latest proof of his obsession is the Hydra Triton v2, which distributes AC to eight outlets while providing noise reduction and circuit protection.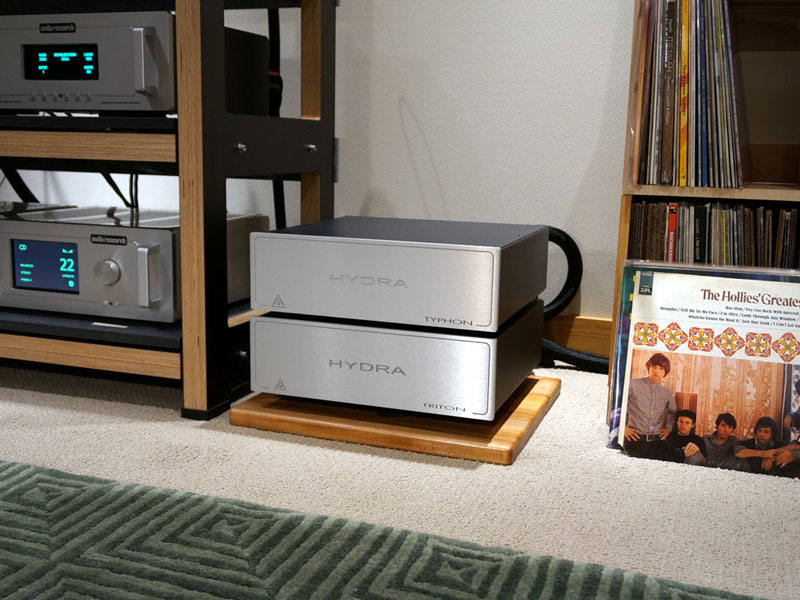 The Shunyata Research Typhon atop the Triton v2.
While the Triton v2's casework looks identical to that of version 1, the v2 contains a host of new materials and functional improvements. There are new Shunyata-designed outlets made from oxygen-free copper. I saw scant droop from the plugs of heavy power cords caught in their "grip-like vice," to quote Elvis Costello. The outlets connect directly to an all-new OFE Alloy 101 copper buss (the original Triton used brass) that brings measurably reduced resistance and commensurate increase in DTCD. Each duplex features a new component-to-component interference (CCI) filter that targets the backwave of component noise before it has a chance to get onto the Triton v2's buss and spread; the four CCI filters are in addition to the multiphase-differential-array filters used in the first Triton.
A new chassis-ground system offers four backside terminals for connecting the chassis of external components to a centralized ground point. This can help eliminate AC voltage differentials across those components and may help with ground-loop issues. The chassis-ground system extends noise reduction to external components by passing their ground connections through the Triton v2's Noise Isolation Chamber technology that saw great success in version 1.
Version 2's 16-gauge steel chassis (14-gauge for the original Triton) ups its weight by two pounds with a stiffer framework and a different resonance frequency. That brings new attention to distortion-causing vibration. Shunyata equips the Triton v2 with internal chassis damping and specially designed vibration-absorbing footers. Even its new copper outlets mount on gaskets to isolate them from the chassis. A new internal Gemini module improves noise reduction with new filters on incoming wall power while encapsulating the Triton's electromagnetic circuit breaker and surge/spike protection into a two-terminal, field-replaceable module complete with interior LED status indicator. With a new Triton v2 going for $6995 (a $2000 increase over its predecessor), the cost to upgrade an original Triton to "near v2" status seems surprisingly equitable at $1900.
I reviewed the first Triton back in 2013, observing ". . . quieter backgrounds with less grain and hash, the emergence of new musical detail, improved timbre, more refined dynamic contrast (especially in the mid to lower frequencies,) an expansive soundstage with better image focus, and, of course, the Hydra hallmark of weightier bass with clearer leading-edge articulation and improved extension." So when I heard there was a Triton v2, I asked myself, How much better can it get? More than I thought, it turned out. With the Triton v2 in place, following three weeks of Shunyata-recommended break-in, my system produced sound with less electronic noise and a more direct, realistic presence. Music was clearer and cleaner with greater dynamic contrasts, nicely improved mid-to-low-end weight, articulation and focus. An audio signal with less noise meant quieter backgrounds with truer, longer-lasting decay, all the way to the definitive point where a note stopped. The Triton v2 crossed a new threshold, significantly lowering the scrim of distortion even further while increasing current throughput well beyond where any previous Hydra had gone before. I sensed a qualitative shift to the sound of my system best described as increased audio realism.
That sense of realism directly varied with the quality of the recordings I played -- the Triton v2 did nothing to homogenize sound. Reduced distortion and a lower noise floor made obvious differences in recording and engineering quality. Listen to Serena Ryder's song "What I Wouldn't Do" from her CD Harmony [Capitol B001848602]; it's a synthetic mash-up where each instrument seems to have its own processed pseudo-acoustic, while Ryder sounds as if she recorded inside a tin can. With the Triton v2 in place, those production manipulations were laid bare. Well-made recordings became more enjoyable, even thrilling. I had more fun listening to quality recordings through my stereo because my internal listening system -- i.e., my ears and brain -- readily accepted the sonic reality of the additional information that came with the Triton v2 in place.
My earliest listening notes recorded the somewhat naïve notion that instruments and voices were now powered by their own individual and highly tuned amplifiers; each sound was louder and clearer, like being in an auditorium with better acoustics. Instruments and voices asserted themselves with a new visceral substantiality, as if the components that rendered them were injected with an increase in their power-supply capacitance. Midbass and lower-bass frequencies from my Wilson Alexias sounded very (very) solid, articulate, and uncompressed, as if they were powered by a motor with nearly unlimited torque, instantaneously available. With the Triton v2 on board, that old friend of The Audio Beat, Keith Richards' Main Offender CD [Virgin 86449 2], told me you don't need new amps to hear bass with greater tonal solidity and nuance, and drum thwacks with sheer dynamic punch. Multiple concurrently played bass drums and timpani, violins and violas, baritones and trombones affirmed their own dynamics and articulations with discrete tonality, each holding their place in the score with coherence and strength, none washed out or blurred into another section regardless of relative dynamic or similarity of frequency.
The overriding character of the Triton v2 on every quality record I played was forthright clarity and immediacy with greater dynamic authority, presence and realism. Part of that sense of presence and realism was the result of less blur around the edges of sounds and the relative concision of a note's first launch, from its initial transient birth to arrival at its fundamental and full tonal density. Notes that started as whispers began with declarative pitch. Subtle variations in phrasings across all levels of dynamics from different musicians and conductors were made obvious. I heard how each singer from Ladysmith Black Mambazo lined up to perform "Homeless" on the Graceland LP [Warner Bros. 25447-1] then, when their solo came around, leaned in slightly toward the mic. My mind's ear sensed the presence of Kiri Te Kanawa and Lucia Popp as real humans on a large open stage, Popp slightly behind and over the shoulder of Dame Kiri as together they sang the "Letter Duet" from Mozart's Marriage of Figaro (CD [London 417 395-2]). The harmonics of their entwined voices mixed, spread in a circular pattern, then rose into the grain-free air above them, all of which contributed to an experience of vivacious music making. Even the individual rasta backup singers on Keith Richards' "Words of Wonder" appeared separately with dimensional form and movement.
The Triton v2 provided an electrical context where my system presented music with a forthright and authoritative sense of presence that brought my listening closer -- sometimes very close -- to what I experience when I hear live music. Some might go so far as to characterize the Triton v2's improvement as equal to that of a new amp or CD player. But clean power on demand lifts all boats, so the Triton v2 is a true system-level upgrade.