Music Matters Marches On
by Marc Mickelson | May 25, 2012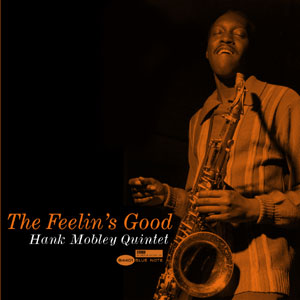 early five years ago, Music Matters, the reissue label founded and operated by Joe Harley and Ron Rambach, shipped its first two releases: Art Blakey's The Big Beat and Horace Parlan's Speakin' My Piece. Eighty-four others have followed, a pair every month, each one a musically significant collection from the vast Blue Note catalog. As I responded to a recent reader letter, "I could make the case that every one from Music Matters is a must-have," an assessment that the sheer number of releases would seem to invalidate. Instead, with each new double-record 45rpm set, Joe and Ron have only added to their legend, plucking another consequential session from the Blue Note archives.
Thirteen new titles
If you monitor the Music Matters website (as I do), you've noticed that the pre-order list has been dwindling and only two titles are currently labeled for future release. This raises a natural question: are more coming? The answer is an unequivocal yes. Thirteen new titles are in the production pipeline right now, with an indeterminate number in the planning stages. What this means is that a baker's dozen new titles will soon be available and that Ron and Joe are considering others to reissue beyond that. Following May's release of Grant Green's Street of Dreams and Wayne Shorter's Speak No Evil, these new titles will appear:
Herbie Hancock - Inventions And Dimensions [BST 84147]

Joe Henderson - In 'N Out [BST 84166]

Pete La Roca - Basra [BST 84025]

Art Blakey and the Jazz Messengers - Free For All [BST 84170]

Horace Silver - Finger Poppin' [BST 84008]

Herbie Hancock - Speak Like A Child [BST 84279]

Larry Young - Into Somethin' [BST 84187]

Hank Mobley - The Feelin's Good [BST 84401]

Kenny Clarke, Francy Boland and others - The Golden Eight [BST 84092]

Grant Green - Gooden's Corner [GFX 3058]

Herbie Hancock - Takin' Off [BST 84109]

Horace Silver and the Jazz Messengers [BLP 1518]

Andrew Hill - Judgment! [BST 84159]
Any thirteen-title block from Music Matters provides an intriguing mix of lineups and styles, and this one is no exception. But there's one mystery lurking here that will perplex even Blue Note connoisseurs. Catalog number 84401 was never used, and Blue Note never issued an album from Hank Mobley titled The Feelin's Good. So what gives? The music collected here was recorded during a single session in March 1963 and then inexplicably shelved. Pairs of tracks were released on two later Mobley albums. "Old World, New Imports" and "Up a Step" were included on No Room For Squares, and "East of the Village" and "The Good Life" were on The Turnaround! The remaining two tracks, "The Feelin's Good" and "Yes Indeed," were not released until after Hank Mobley's death in 1986 as part of the compilation Straight No Filter.
So, for the first time, this session will exist as a complete album, down to its gorgeous new vintage-inspired gatefold sleeve with unpublished session photos in the center. I've heard the test pressing, and it has every earmark of a great Blue Note session -- including a front line of Mobley, Donald Byrd and Herbie Hancock. Joe Harley's feelings understandably run deeper: "Having the opportunity to present this great session in its entirety, and in the 'Music Matters Jazz' style, is one of the most satisfying things we've done with this series to date."
There's more news regarding the release of these thirteen titles. Music Matters will take a summer hiatus, returning in September with a slight change to its every-month shipping schedule. A pair of titles will thus appear every six weeks, giving the Music Matters staff (and subscribers' credit cards) some respite.
Buying from the source
Something else you'll notice on the Music Matters website is the "Shop Now" button, through which you can buy titles new and old directly from Music Matters. Yet, as Joe Harley lamented, "From customer feedback it's obvious that many people do not know that we (continue to) sell our records directly."
So consider this your wake-up call: Music Matters has limited stock of every title, and the label will continue to sell them at the $49.95 list price until they are gone. "Distributors and dealers have their allotment, but we kept some back for new subscribers," Ron Rambach told me, "subscribers" being those who automatically receive every release. They are the backbone of the series, a group of customers that Music Matters can count on month after month, release after release.
So if you covet The Big Beat, Speakin' My Piece or any that came afterwards but haven't wanted to pay the ever-climbing prices for them, you now know where to get them. And look for those thirteen new titles to begin shipping in the fall.