This is the End: Music Matters' Final Titles
by Marc Mickelson | August 19, 2016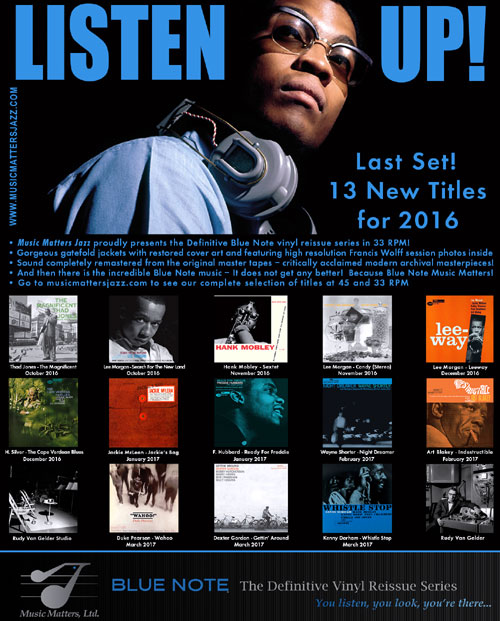 n 2007, Ron Rambach and Joe Harley, old friends in music, had an idea: to reissue a choice selection of recordings from the Blue Note catalogue, the most consequential collection of recorded jazz in human history, on a pair of 45rpm 180-gram LPs in deluxe gatefold sleeves. Each title would cost $50, but the quality of the product would justify the price. Original Blue Note LPs can go for thousands of dollars, so the cost of Ron and Joe's double-LP sets seemed downright reasonable. And the choice of material was inspired -- most of Blue Note's greatest recordings, all remastered with utmost care and packaged in high-quality gatefold jackets with unpublished session photos in the center.
Ron and Joe named their new label Music Matters, making a statement of intent in the process. Initially, 64 titles were planned, but over the course of the next few years, with a pair of recordings appearing every month like clockwork, the number grew, finally to a total of 112. But Joe and Ron weren't done there. They reissued more Blue Notes, this time as 180-gram single-LP titles with the same sleeves but at a lower price. There would be a total of 20 of these, but this grew to 32 and finally 45.
Today, Joe and Ron have announced the final 13 Music Matters titles, the series comprising a decade of work in its conception and delivery. "This is to announce that we have taken our last walk through the vaults" a message to subscribers announced. "We gave it our all -- heart, soul, sweat and tears."
I've had many conversations with Joe and especially Ron over the past decade, and I have heard about the pitfalls they encountered and the adjustments they had to make along the way. They were obsessed with quality. With each improvement in the mastering chain, each discovery of session photos for the gatefold jackets, they became energized all over again, knowing that they were doing justice to music they had revered. To those of us who got to hear and see their work, it seemed infinitely refined from the very beginning. But the nature of obsession is that the obsessed don't see it for what it is.
The graphic above shows the final 13 titles -- "Murders' Row," as Ron Rambach has called them. Jazz aficionados will recognize them by the covers, which you can see better here. They are a fitting way to end the series.
While there will be no new releases after these 13, Music Matters will continue to sell its existing stock, which includes every release at 45 and 33rpm -- 157 in total -- as well as test pressings and other rarities. The prices will only begin to climb from here, so buy early and often. We will never see -- or hear -- their kind again.