Covering the Beatles
by Marc Mickelson | November 21, 2012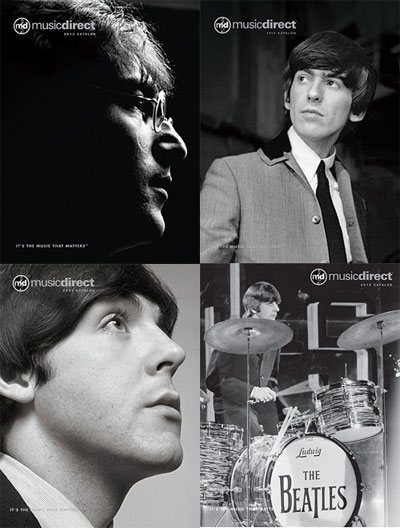 very year, Music Direct taps into something nearly primordial with its annual catalog. First, the catalog arrives right at the beginning of the holiday season, when childhood memories of poring over catalogs, pen and paper in hand, are easily conjured. Second, and more alluring, is the catalog's breadth: 208 pages of audio equipment and accessories laced with sections devoted to music from every major label and in every format. This year, the catalog promotes the newly re-released Beatles LPs, each cover showing one of the Mop Tops in a matte, soft-touch finish and printed with metallic silver ink. The covers are gorgeous and literally suitable for framing.
Mobile Fidelity, Music Direct's own label, uses the catalog to unveil upcoming releases. This year we find out that MoFi will be re-reissuing a few titles from its past, including Rickie Lee Jones' eponymous debut and Alan Parsons Project's I Robot, both on 45rpm vinyl (I Robot also comes to SACD). There are Sinatra titles that MoFi released only as part of its 1983, sixteen-record boxed set, including Songs for Swingin' Lovers and In the Wee Small Hours, and Bob Dylan's The Times They Are A Changin'. All of these long-out-of-print titles fetch hearty prices on the used market.
Josh Bizar, Music Direct's marketing director, manages the project. "It's no small affair," he says. "Every Music Direct employee has a hand in its production -- over 30 people. This translates to thousands of hours of work from photographers, writers, graphic designers and proofreaders."
Okay, it may be "just a catalog," but what a catalog it is. It will be showing up in mailboxes over the next couple of weeks. Which cover will you get? At this time of year, all good things are surprises.