Mobile Fidelity, Past and Present
by Marc Mickelson | July 20, 2012
t seems improbable, but it's true: in the late 1950s, a teenager who recorded steam engines and released records of his work unknowingly founded what would become the most famous audiophile recording label ever. Brad Miller's Mobile Fidelity Records released those early steam-engine recordings, following them with a pair of sound-effects records under the Mobile Fidelity Sound Labs moniker retained by the company today. Miller was also a musician -- of sorts. In the 1960s and '70s, his Mystic Moods Orchestra mixed environmental sounds with orchestral music -- not exactly a combination as natural as blues and rock'n'roll, but the source of some original music nonetheless.
My top ten MoFi's. . .
Beck: Sea Change [MFSL 2-308 & UDCD 780], LP & CD – Downer music with sweet, weighty sound, digital or analog.
Elvis Costello: Get Happy!! [MFSL 2-334], LP – Some of Elvis Costello's tightest songs. Cut at 45rpm.
Led Zeppelin: Led Zeppelin II [MFSL 1-065], LP – What I play when a novice wants to hear what analog is capable of.
André Previn and His Pals: West Side Story [MFSL 1-095], LP – Every now and then, the "Original Master Recordings" ribbon will catch my eye at a garage sale. A dollar well spent.
Squeeze: East Side Story [UDCD 739], CD – Post-Beatles pop at its best in a version that beats all others, digital or analog.
Aimee Mann: Lost in Space [MFSL 1-278], LP – One of the first vinyl releases after Music Direct relaunched MoFi.
R.L. Burnside: First Recordings [UDSACD 2026], SACD – A spookily real-sounding mono recording.
Ted Hawkins: The Next Hundred Years [UDCD 702], CD – Soulful blues sung in a knowing voice.
REM: Murmur [UDCD 642], CD – The 200-gram LP is noisy (at least my copy is), but the CD unravels this murky music just as well.
Pink Floyd: The Dark Side of the Moon [MFSL 1-017], LP – Arguably the most famous MoFi title -- and the one that non-audiophiles are most likely to own.
. . .And five I wish I had
Patricia Barber: Cafe Blue [MFSL 3-45002], LP – Used prices for this three-record 45prm set are in the hundreds -- and climbing.
Donald Fagen: The Nightfly [MFSL 1-120]. LP – Out of print and expensive.
The Beatles and Rolling Stones sets [MFSL BC-1 & MFSL RC-1], LPs – Out of print and really expensive. It's my wish list, so why not wish big?
Miles Davis: Kind of Blue, LP – Coming soon -- the celebrated jazz masterpiece on a pair of 45rpm LPs. An instant collectible whose investment potential is better than the Dow's.
-Marc Mickelson
The label we know today, variously referred to as MFSL or simply MoFi, turned its attention to the re-release of recordings with wider appeal in the early 1980s, the model it continues to follow. As hi-fi sound was a top priority for Miller, all releases were produced using the original master tapes via the then-unknown half-speed mastering process, which slowed down the vinyl-cutting system so musical information could be transferred from the tape to the lacquer more faithfully. The "Original Master Recordings" ribbon at the top of every jacket became the company's de facto logo.
More innovations were to follow. The early '80s saw the introduction of the Ultra High Quality Record (UHQR), which featured specially formulated 200-gram virgin vinyl and limited production runs. In addition, the company released three groundbreaking box sets collecting the music of the Beatles, the Rolling Stones and Frank Sinatra.
Critical attention was mostly positive but not unanimously so. The Absolute Sound's pendulum swung in both directions. Harry Pearson said of the MoFi pressing of The Dark Side of the Moon: ". . .Dark Side never had it so good." But in the same issue (Volume 4, No. 15, July 1979), he observed of the entire series "a coolness of sound that is on the white, dry, overly etched side, afflictions particularly evident in the lean, cool midbass region and in the (washed-out sounding) highs." You can't win 'em all, yet MoFi prevailed in the end, as those early LPs still fetch healthy sums on today's used-vinyl market.
The mid-'80s saw Mobile Fidelity begin to abandon vinyl in favor of the CD. Further sonic refinements to its CD-mastering process led to the introduction of the UHQR CD in 1987, which featured a 24K-gold coating. These CDs also came packaged in MFSL's clever lift-lock jewel cases -- another innovation.
By the mid-1990s, demand for audiophile vinyl was on the upswing, and Mobile Fidelity answered with the ANADISQ 200 series, which featured limited-edition titles pressed on 200-gram vinyl and half-speed mastering with the new GAIN system. But at the end of the decade, just as MFSL was beginning to use the improved GAIN 2 system, the company's primary distributor filed for bankruptcy and Mobile Fidelity followed. But the brand didn't remain off the map for long. Jim Davis of Chicago-based audio-equipment and vinyl seller Music Direct purchased all of MFSL's intellectual property and hardware in 2001 and began to resurrect the label. In 2003, MFSL announced a new series of vinyl releases featuring recordings from John Lennon, Aimee Mann and Isaac Hayes.
I remember the buzz at the 2004 CES over these LPs, and I have played the copies I received there many times. From the beginning, the label set and maintained a very ambitious schedule, releasing more than a hundred titles in just about every genre since 2004. If you are on Music Direct's e-newsletter list, you will see announcements of new MoFi releases with great regularity, with series of Bob Dylan and Miles Davis releases in the works.
usic Direct had bigger plans for MoFi than simply releasing audiophile records and CDs -- or so it seemed. Early on the label began branching out, producing a pair of speakers under the Mobile Fidelity name and then a line of mostly vinyl-related accessories. However, as Josh Bizar, sales and marketing director for Mobile Fidelity and Music Direct, told me, "Making MoFi products wasn't the original idea. We needed good stuff for our use, and at some point we decided to brand it MoFi." Necessity once again proves to be the mother of invention.
A natural need for Mobile Fidelity is non-abrasive, non-paper inner sleeves for its LPs. Pressing plants can supply them, but MoFi didn't go this route in the past, instead doing its own thing to protect its records: a rice-paper sleeve covered by a folded light-cardboard protector that conveniently announced upcoming titles. The Mobile Fidelity-branded sleeves you can buy today ($20 per package of 50) are identical to those used for the records -- and identical to others that replicate the long-discontinued three-ply Discwasher VRP sleeve. However, when faced with the choice of MoFi sleeves or no-name equivalents, I admit to buying the MoFi, even at slightly higher cost. There's just something reassuring about sliding a record into a sleeve with the Mobile Fidelity name on it. Besides, the printing quickly lets you know which side is which and where the opening is.
The Mobile Fidelity cleaning brushes ($20 each) are equally reassuring. The proprietary velvet-like pad provides broad, tactile surface contact, good for forcing fluid into the record grooves, and the rubber handle won't mar the record if you're clumsy. However, what I find most ingenious about these brushes is the adhesive used to affix pad to handle. It's strong enough to keep the pad in place without movement, but this also gives the impression that you'll never get the pad off when you need to replace it. I thought I'd struggle with it, but the pad rips right off, taking all adhesive with it, leaving a perfect surface for a new pad, which is sold in a pack of two for $5. "We worked really hard on that brush," Josh told me. He also let me know that assembly is insourced -- done by hand at Music Direct in Chicago. If you have a vacuum record cleaner, this brush is an absolute necessity.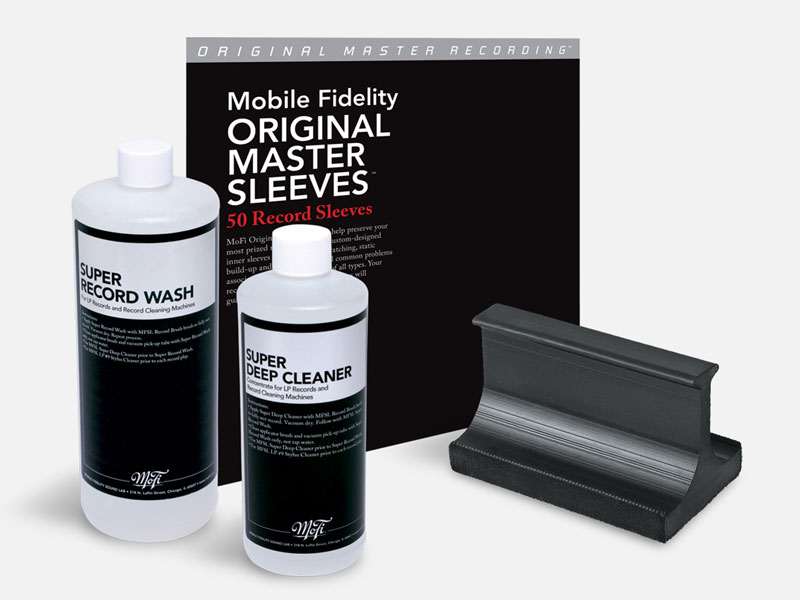 Record-cleaning fluids are another natural for Mobile Fidelity, and another market segment where the company's name is a benefit. Vinylphiles choose record cleaning fluids as carefully as enophiles choose cabernets. For me, a good record-cleaning fluid must spread evenly (not all of them do) and be easily removed, along with all of the dust and other noise-creating crud. If, as some claim, a fluid enhances midrange presence or increases bass weight, that's a sign of something being left on the record, which is not the point. I just want a clean record, and that means removing dirt and grunge along with the fluid.
Cleaning records always involves balancing effectiveness with time. As with systems from Audio Intelligent Vinyl Solutions (AIVS), Walker Audio and others, you can go the uncompromising route with a multi-step Mobile Fidelity regimen consisting of four fluids: Super Deep pre-cleaner ($25), Plus Enzyme cleaner ($30), Super Record Wash general cleaner ($25) and a Pure Record Rinse chaser ($20). And as with the AIVS process, you can cut out a couple of steps and still achieve very effective cleaning in less time and at lower cost. MoF's Plus Enzyme followed by Pure Record Rinse comprises a two-step process whose results are hard to beat. Super Deep pre-cleaner is also great for TAB writer Tim Aucreman's discovery for really filthy records: the 20-minute soak. As its name implies, this method involves twenty minutes of wetting and agitating with Super Deep Cleaner, vacuuming, rinsing, then final vacuuming. The time and agitation loosens the maximum amount of grunge, which the vacuum whisks away. MoFi also offers a fast-drying alcohol-based one-step cleaner, aptly named One Cleaning Solution ($25), and it's good too, although not the equivalent of the multi-step process, especially with dirty records. I'm not one to fret over using separate brushes for each fluid, although I do use separate cleaning and rinse brushes. If you use three or four brushes, the price of the MoFi brushes makes this a less painful proposition.
Of course, all of this assumes that you have a vacuum cleaning machine like those from VPI, Loricraft or other makers. While MoFi recommends One Cleaning Solution along with MoFi brushes for non-vacuum cleaning, I didn't try it, as I have both VPI and Loricraft machines. Music Direct also packages the fluids the right way: putting a proper cap on every bottle, which is shrink wrapped to guard against leakage during shipping.
I've been using Mobile Fidelity's LP #9 stylus cleaner ($25) for years, and it's a no-thought-necessary recommendation. You can easily see and, more importantly, hear the difference after a dab on the stylus tip has been removed with a bit of back-to-front brushing. Josh Bizar gave me a tip about using '#9 that's so sensible I feel embarrassed for not thinking of it myself. I was habitually cleaning the stylus before every play, which seems intuitive, but if you get in the habit of cleaning after, you will remove buildup from the stylus at the end of each album side, before it is able to harden. This method also means that you begin every listening session with listening and not stylus cleaning, a welcome byproduct.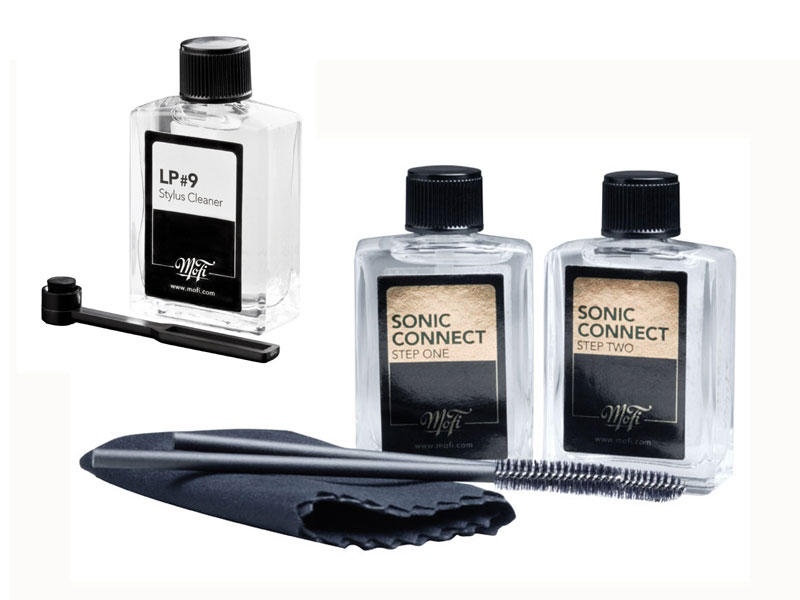 I've saved my favorite MoFi product (non-musical, that is) for last; it's also the easiest one to overlook, given that it's for general use, not strictly for vinyl. Sonic Connect is a kit for cleaning contacts. It comprises two fluids (one to remove oxidation from metal parts and the other to remove grease and dirt), a microfiber cleaning cloth, a pair of rounded brushes, and directions. I have been cleaning contacts with ultra-pure alcohol for many years, thinking that all connectors, RCAs, spades, plugs and such in my system were as clean as they could get. Still, I dutifully gave Sonic Connect a try, thinking that it wouldn't accomplish a thing. Man, does this stuff work. I was surprised when I saw all of the residue it removed -- from my "as clean as they could get" contacts. The gains in focus and clarity were easy to hear.
Music Direct has lowered the price of Sonic Connect by 20% -- from $50 to $40. If money is tight right now, I'll suggest some heresy: replace a record or two in your next order with Sonic Connect.