Havergal Brian's Gothic Symphony: Additions & Corrections
by Richard Freed | April 12, 2012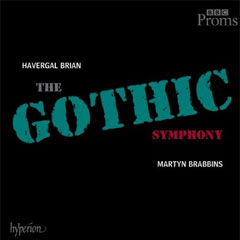 wo weeks after my review of the Hyperion release of Havergal Brian's Gothic Symphony was posted, Mike Le Voi wrote to me from Australia to offer some corrections, primarily on the matter of the work's performance history. Mr. Le Voi, of the 4MBS Concert Recording Team, is especially knowledgeable on this work by virtue of his hands-on experience in producing 4MBS Classic FM's live broadcast of its first concert performance outside the UK, which took place in Brisbane, Australia, with specially assembled forces conducted by John Curro, on December 22, 2010, seven months before the London Proms performance preserved on the Hyperion CDs.
In respect to other performances prior to those two, there were indeed very few, but not quite as few as I may suggested in my review. Mr. Le Voi kindly referred me to the Havergal Brian website, which offers five pages of comprehensive details on them as well as on recordings, articles and reviews relating to this work, showing that there were seven performances before the one in Australia, differing in their respective levels of professionalism as well as in their actual substance. Some were complete, while others were of Part I alone, an option sanctioned by the composer. Some were public concerts, while others were not, and one took form in recording sessions under studio conditions.
Here is a rundown of all performances to date:
June 24, 1961 – World premiere, at Central Hall, Westminster, London. Professional singers with instrumental ensembles drawn mostly from schools, conducted by Bryan Fairfax.
October 30, 1966 – First professional performance, Royal Albert Hall, London. BBC Symphony Orchestra with soloists and choruses, under Sir Adrian Boult. Broadcast live by BBC. Recording issued in 2009, Testament set SBT2 1454.
October 10, 1976 – Part I only, for an invited audience, Royal Albert Hall. New Philharmonia Orchestra conducted by Sir Charles Groves. Broadcast live, BBC.
May 21, 1978 – Victoria Hall, Hanley, UK. Ad hoc orchestra, with soloists and choruses, conducted by Trevor Stokes.
May 25, 1980 – Royal Albert Hall. Ole Schmidt conducting the London Symphony Orchestra, with soloists and choruses. Broadcast by BBC.
September 15, 1984 – St Olave's School, Orpington, UK – Public rehearsal of Part I only. Ad hoc orchestra conducted by Marc Fitzgerald.
March 29-31 and October 16-22, 1989 – Bratislava, Slovak Republic. Recording sessions, Ondrej Lenard conducting CSR Symphony Orchestra, with soloists and choruses. Recording (the only one so far made under studio conditions) released by Marco Polo in 1989, subsequently reissued as Naxos 8.557418-419.
December 22, 2010 – Queensland Performing Arts Centre, Brisbane, Australia. John Curro conducting specially assembled Gothic Symphony Orchestra and choruses, with soloists. First concert performance outside the UK; first anywhere since 1980. Broadcast by 4MBS Classic FM.
July 17, 2011 – Royal Albert Hall. Proms performance conducted by Martyn Brabbins. Broadcast by the BBC, issued on CD by Hyperion.
Mike Le Voi observes that this Proms recording appears to have been recorded by the BBC, and not by Hyperion's own recording team, which I congratulated in my review. Most instructively, for me, Mr. Le Voi has provided definitive validation of the layout of the Hyperion CDs. I had complained that if Hyperion had not included the eight and a half minutes of applause and cheering that followed the Proms performance, all three sections of Part II could have been accommodated on the second disc, instead of splitting Part II between the two CDs. The point here, as Mr. Le Voi notes, is that Parts I and II are directly conjoined in the score:
"The problem with putting all three sections of Part II on the second CD is that movements 2, 3 and 4 (i.e., the last two movements of Part I and the first one of Part II) all segue into one another. It would produce a very disjointed experience if you had to get up and change the CD as Part II started [because there is no break in the music at that point]. That is why both Naxos and Hyperion have movements 1-4 on CD 1 and movements 5-6 on CD 2. Brian wrote an "ending chord" for use when Part I is performed on its own. This is not the same as the chord that opens Part II. The only public performance in which both chords were used was the one conducted by John Curro in 2010, as he took a five-minute pause between Part I and Part II. Thus, in my production of the 2010 concert for broadcast, CD 1 is 37 minutes long and CD 2 is 69 minutes long. This is, of course, lopsided, but it is a true representation of what took place that day. With Brabbins in 2011, the choirs all stood up just before the end of Part I, with gasps from the audience, and the segue was used."
Thus the performance recorded by Mr. Le Voi actually does provide a space between Parts I and II, and this is reflected in his disc layout. His 4MBS recording of the Australian concert has not been made available on commercial CD so far.