BMC: Uncommon Execution of New Ideas
by Marc Mickelson | September 29, 2011
y exposure to BMC -- short for Balanced Music Concept -- began nonchalantly enough, with a press release that explained the company's solid-state electronics. All of the products seemed interesting, if not particularly special -- at least at first glance. I wrote a short news story about the line, making a mental note to have a closer look at the sleek digital gear and amplifiers at the Rocky Mountain Audio Fest, the home court, so to speak, of BMC's US distributor, Aaudio Imports.
But Brian Ackerman, the one-man band that is Aaudio, had different plans. He called me a few weeks after the news story posted to tell me more about BMC. "I've been looking for a line like this," Brian beamed, then went on to explain that BMC was actually an offshoot of a well-established German company located for nearly twenty years in China. That company designed and manufactured audio electronics for other brands, most notably CEC and AQVOX. Most interesting, Brian told me that BMC manufactures "large runs" of its products, instead of making them to order or building a few dozen at a time. What's "large"? "Hundreds of units," he revealed, this strategy, along with Chinese labor, helping BMC to keep manufacturing costs under control.
The picture became a little clearer, but "special" remained elusive. A few weeks later, Brian called again, asking if I'd be interested in writing about the entire BMC line in one mega review. The rationale was that these products, more than others, deserved to be used together. Brian's reasoning seemed simplistic. Electronics manufacturers always claim that their products work best together. Still, I agreed to do the review, mentally citing synergy as the impetus for the full-system approach. To kick things off, Brian invited me to Denver, where he's located, to meet and talk with BMC's CEO, Carlos Candeias. Background for the review, I conceded, and I was off to Denver.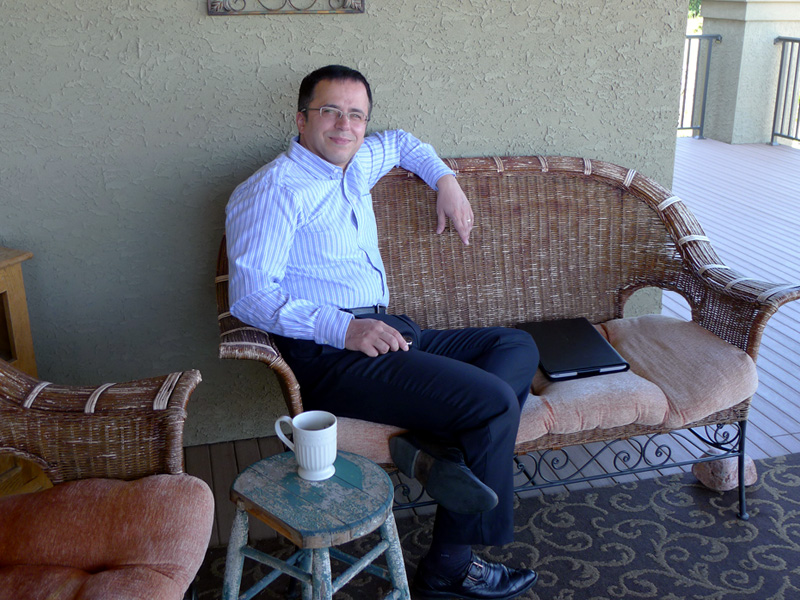 Carlos Candeias relaxing.
This meeting turned out to be anything but a typical dog-and-pony show, for a number of reasons. The first was Carlos himself -- a trained musician of Portuguese and Spanish descent who grew up and studied electrical engineering in Germany. He designed each product in the BMC line and knew every detail about their manufacture as well. He was also an astute student of the audio industry and the world economy -- equally at ease talking about power supplies and foreign currencies. His view was unusually global -- in terms of the markets in which BMC products are currently sold as well as his China-by-way-of-Germany company. The conversation was more My Dinner with Andre than The Wall Street Journal, but it was clear that BMC functions in some unusual ways.
While each production run does involve building "hundreds" of each product -- 300 to be exact -- even more unusual is BMC's sales strategy. It's both direct to consumers and supportive of the brick-and-mortar dealer. The idea is to allow dealers to do what they do best -- demonstrate products to local customers -- while cutting down on the competition they engage in with the rise of online selling. BMC makes it attractive for dealers to buy demonstration units, and when sales are made, the company aids dealers again by collecting the funds from the customer, drop shipping, and then paying the dealer -- turning the traditional method of selling audio gear on its head. This approach yields a number of potential advantages, including the protection of list prices. BMC collects the money, so it knows what consumers are paying for its products and it can simply refuse a sale if the price is too low. It takes a special product line to ensure the success of such an arrangement -- one whose perceived value is high enough to give dealers incentive to sell it in this fascinating new way.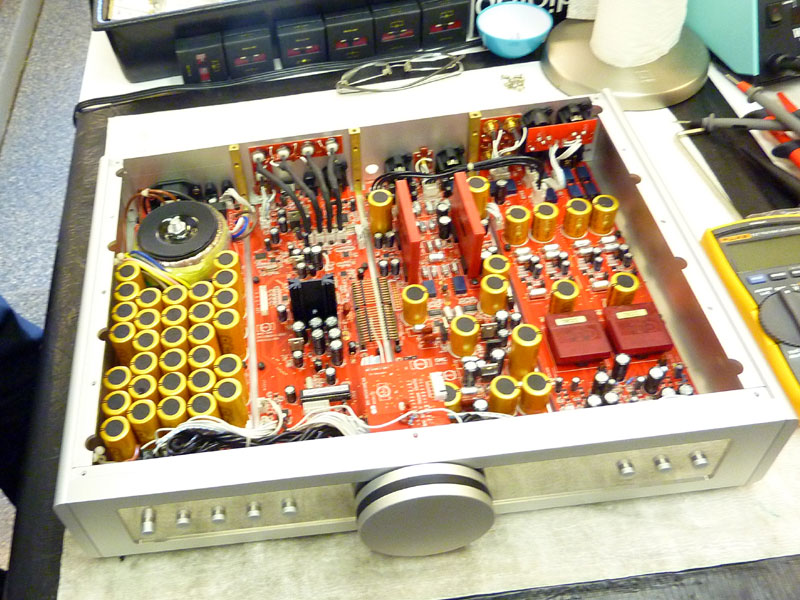 Inside the BMC DAC1 Pre.
Putting aside the technical particulars of each product, which I'll cover in my review, the care with which the BMC products are designed and manufactured is truly inspiring. Carlos gave me an in-depth tour of his DAC1 Pre ($6290), which, as its name suggests, is a combined digital-to-analog converter and preamp. The fine points were again unusual: bespoke capacitors, a special circuit-board material, gold circuit-board traces, and a new USB input board with proprietary asynchronous circuit. The cosmetics were stunning and, again, unusual. The faceplate is actually a mirrored panel through which LEDs illuminate to show the product's status, and the chassis consists of a matrix of extruded-aluminum pieces that fit together with exacting precision.
While I was in Denver to see the entire BMC product line and discuss the company with its CEO, the most important part of the trip was hearing everything in Brian Ackerman's well-appointed listening room. The only non-BMC products in use, including cables, were the Acapella High Violincello II Mk II speakers ($83,000/pair) and a Bergmann Sleipner turntable ($54,400) with Ortofon A90 cartridge ($4200). In between were the BMC MMCl phono stage ($3890), the aforementioned DAC/preamp, and a pair of Amp M1 mono power amps ($15,580/pair). Providing the bits was the BDCD1 transport ($4990). While this may seem like a rather pedestrian lineup, the ways in which everything was connected were far from common. The phono stage accepts only balanced input, which makes immediate sense, given that a phono cartridge has an inherently balanced output. More unusual was the Superlink connection between transport and DAC, which splits the digital signal into its constituent parts and sends each on a BNC cable, four of which run between the units.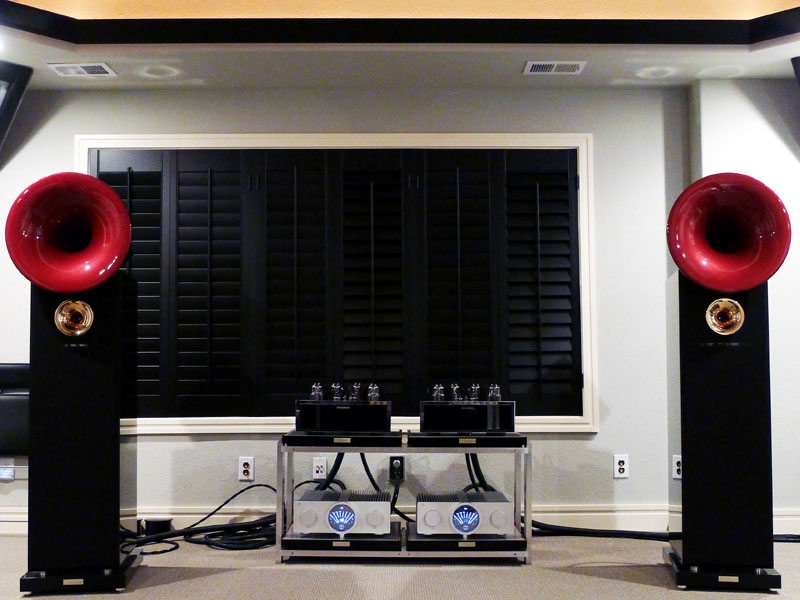 The view from the listening seat.
However, the connection between the DAC/preamp and mono amps was easily the most novel -- even radical. While it's possible to use XLR-terminated interconnects alone, the BMC amps' Current Injection input allows for special connection to the DAC/preamp. In this case, in addition to the balanced interconnects, there is also a pair of TosLink cables that are for data only and carry no signal. This XLR-and-TosLink arrangement sends the source current from the preamp to the amps, allowing adjustment of system gain within the amplifiers themselves.
While this has some important technical advantages, including a dramatic lowering of distortion, it's what it does sonically that proves its worth. When I was packing my demonstration CD-Rs prior to leaving, I was sure I'd only pull out a couple of them once in Denver. Sitting in the prime listening seat, however, I shuffled through them all, and then started over again, just to discover what the BMC electronics were about and then to hear music that I knew well on this exciting system. The system was absolutely effortlessness at every listening level, redefining the term "grainless" and revealing instrumental timbres with extraordinary purity. My immediate impression, and one that persisted as I listened, was that the system presented more of the music and less of everything else.
I'll end this blog with that bit of wisdom -- or confusion. I will be receiving the BMC system shortly after the Rocky Mountain Audio Fest, and, contrary to my initial thinking, I'm anxious to discover the depths of what does seem like a very special product line.