Memories of Lenny
by Leonard Bloom | April 11, 2014
amie Bernstein, elder daughter of celebrated musical icon Leonard Bernstein, appeared at two lecture programs in Florida, one at a theater in Sarasota and hours later at the Unitarian Church in Venice. The event was hosted by the Institute of Lifelong Learning, and Ms. Bernstein was introduced to the audience by Joseph Holt, Artistic Director of Gloria Musicae, a local chorus.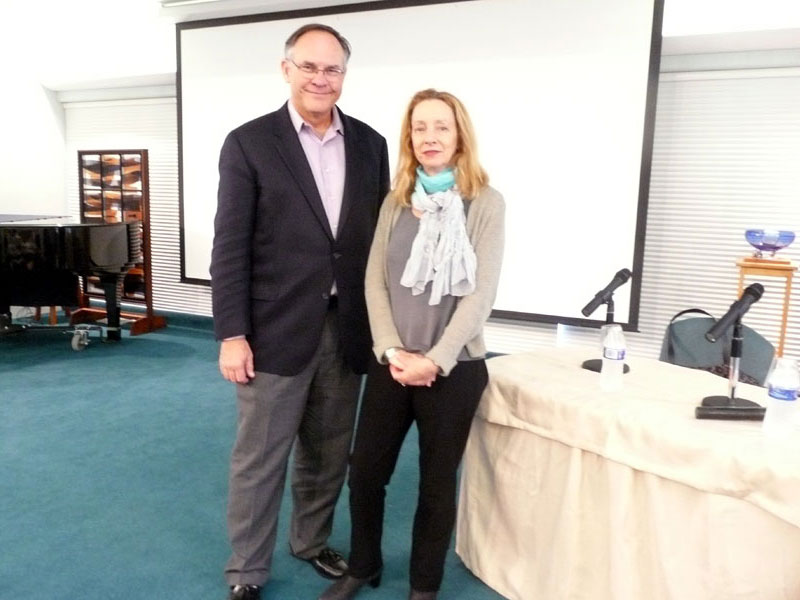 Joseph Holt and Jamie Bernstein.
Ms. Bernstein was raised surrounded by music, theater, and literature. Her charismatic father and gifted mother, the pianist and actress Felicia Montealegre, created an ebullient cultural household for her and her siblings. In part, she spoke of her ongoing world travels expounding her father's artistry and legacy apart from her occasional role as a broadcaster for the New York Philharmonic's live national concerts. Her enthusiasm was infectious and ennobling of the multiple talents of her parents. She likewise touched on topics and anecdotes reflecting the fact that as composer, conductor, and educator, her father was indeed one of a handful of figures in the twentieth century who truly changed the face of music and theater.
During his productive career, Leonard Bernstein composed three symphonies, colorful orchestral pieces, scores for plays and films, an opera, and numerous other works, including his challenging 1971 opus Mass. Ms. Bernstein noted her father's associations with the New York and Israel Philharmonic orchestras as well as countless guest engagements worldwide. In addressing his affinity for the music of Mahler and Copeland, she said her father first met Copland as a sophomore at Harvard in 1939. At various intervals, she showed video clips of the popular televised Young People's Concerts, which I fondly remember as my introduction to classical music. Ms. Bernstein pointed out her father's love for teaching and mentioned that he was among the first group to receive training at the Berkshire Music Center in Tanglewood, serving later as the institution's guiding light and mentoring various young conductors.
One humorous anecdote Ms. Bernstein recounted was the day young Lenny, as he was affectionately called, approached his father Sam to request piano lessons. Pausing momentarily, Sam then retorted, "Why should I give you piano lessons when you will probably spend the rest of your life playing in Klezmer bands?" Several years later, a critic asked Sam why he did not fulfill his son's wish, to which he jocularly responded, "Who knew that one day he would become the Leonard Bernstein?" Another comment Ms. Bernstein made was that neither she nor her siblings took to music like "ducks to water," as did Rudolph Serkin's son to piano or Isaac Stern's sons to violin.
Ms. Bernstein admitted her father had a terrible voice whenever he attempted to sing. Yet he loved to laugh about his poor vocal abilities. He was always a man whose greatest personal attribute was humility. At home, the family would frequently listen to all kinds of classical, jazz, pop and rock music, particularly the songs recorded by the Beatles.
At one interval, a listener approached holding a copy of a book titled The Leonard Bernstein Letters written by her father and edited by Nigel Simeone. These 650 intimate letters reveal the private life of Bernstein, covering a period from the 1930s until his death in 1990. Commenting on a few of the book's missives, Ms. Bernstein alluded to the fact that at times her father was "a mass of contradictions" in that he experienced periods of self-doubt, confusion, and insecurity. In 1939 Bernstein wrote this note to a college roommate: "You may remember my chief weakness -- my love for people. I need them all the time -- every moment. It's something that perhaps you cannot understand: but I cannot spend one day without becoming utterly depressed." Jamie commented that this sentiment stayed true to the very end of her father's life, particularly during scattered moments of loneliness.
On the subject of musical theater, Ms. Bernstein observed her father's often confrontational collaboration with Jerome Robbins, the producer, director and choreographer of the stage and film productions of West Side Story and Fancy Free. Displaying a wry smile on her face, she stated that it was probably Stephen Sondheim who once remarked that there were only two things her father feared: God and Jerome Robbins. "And that was the joke, but in fact, it was kind of true," she added.
When Bernstein was invited to conduct his version of Beethoven's Ninth Symphony on two different occasions on opposite sides of the demolished Berlin Wall, he opted to change the English translation of Schiller's "Ode to Joy" to "Ode to Freedom." Bernstein was never fearful of expressing his political views, notwithstanding the cause in an effort to promote human rights, peace, and democracy.
Ms. Bernstein briefly mentioned her early life when she accompanied her father to rehearsals at Carnegie Hall and Lincoln Center. She was not cognizant enough of her father's celebrity at the time until she watched an episode of The Flintstones in which she saw "Lenny Bernstone at the Hollyrock Bowl." In 1971, her father was honored at the inaugural opening of the John F. Kennedy Center for the Performing Arts in the nation's capital. Upon the family's return to New York City, they unknowingly crossed paths with John Lennon's killer prior to entering the Dakota Arms, where Lennon and the Bernsteins resided.
Currently, Ms. Bernstein is working on a documentary inspired by the work of Jose Antonio Abreu, a celebrated Venezuelan musician, conductor, and founder in 1975 of El Sistema, which is best described as a state-funded orchestral system that aims to promote social organization and community development through the practice and performance of symphonic and choral music. Its objective has been the power to catalyze change and foster self-esteem among youngsters in Venezuela, Paraguay, and the United Kingdom and train young musicians. The most celebrated student and protégé of Abreu has been Gustavo Dudamel, director of the Los Angeles Philharmonic Orchestra. Ms. Bernstein is hopeful that her message about disadvantaged youths achieving the same goals as Abreu and Dudamel will be successful in America.
Reflecting on the early days of her career as a narrator, Jamie pointed out her association with the conductor Michael Barrett in helping to create The Bernstein Beat, a program paying tribute to her father's incredible talents, dynamism and energy, which he often displayed on the podium. Once Bernstein got so carried away with the music in "On the Town," and "Mambo" sequences in West Side Story that he actually fell off the raised platform while conducting an orchestra in Texas. He always enjoyed laughing and humming as he held the baton or while playing the piano, listening to television jingles or songs by the Beatles. At all times, Ms. Bernstein added, her father aimed at communicating what he deemed "cool" about a musical composition. On this point, Jamie has often wanted to do something like ". . .grabbing one person in the last row of the balcony and saying, 'Listen, isn't this cool?'"
In short, for Jamie and her family, their father's music was just as warm and embracing as his personality, which she graciously shared with the attentive audiences during her well-received lectures.