Beauty in Simplicity
by Paul Bolin | December 8, 2011
inneapolis isn't exactly known for its fine November days, but I nonetheless experienced one on Saturday the 5th, when Analog Audio of Minnesota (AAM) held an open house in conjunction with On A Higher Note (OAHN), importer and distributor of Vivid loudspeakers, Brinkmann analog components and Luxman electronics. Paul Blizel, the proprietor of AAM, has built a beautiful, spacious and acoustically optimized listening/demonstration room in the basement of his large home in Maple Grove, a suburb northwest of Minneapolis and it was there that the irrepressible Philip O'Hanlon of OAHN set up what proved to be a very satisfying system.
Spinning the LPs was a Brinkmann Bardo turntable ($7990) with the optional glass platter and Brinkmann's record clamp ($1500 for both) along with the Bardo power-supply upgrade ($1500), Brinkmann's 9.6 tonearm ($4000) and an EMT Ti cartridge ($4300). The turntable rested on a Harmonic Resolution Systems M3X isolation platform ($1895-$2595 depending on size). Providing preamplification for the analog front-end was the new Brinkmann Edison phono stage ($12,990). There was no line stage as such. The Audio Aero La Fontaine music center ($25,000) is not only a superb and versatile digital source, it also contains a tube line stage and can serve as the center of a multi-source audio system.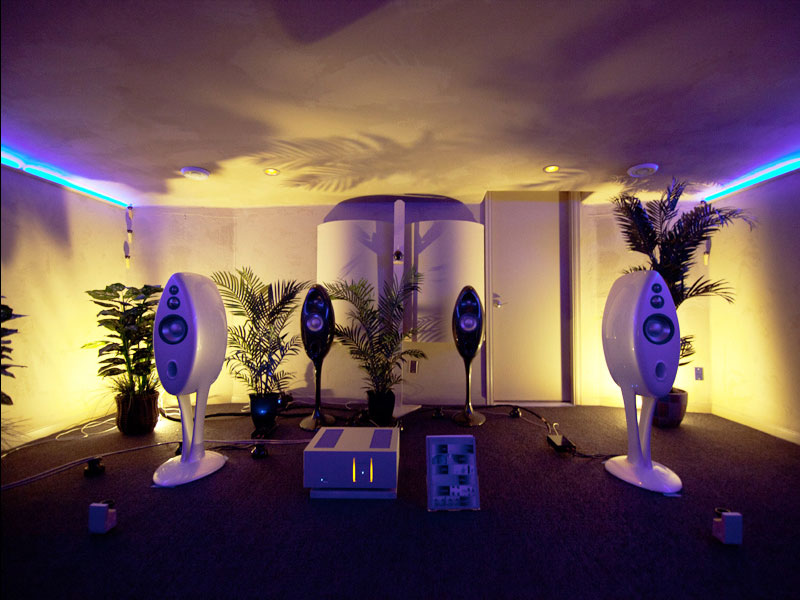 A Luxman M-600A stereo power amplifier ($9000) provided 30Wpc of pure class-A power to a pair of Vivid B1 loudspeakers ($15,000/pair). Wiring was from Synergistic Research, including a Tricon phono cable ($800), Element tungsten interconnects ($2000/pair) and speaker cables ($2800/pair). Synergistic also supplied Tesla Hologram A ($2600 each) and Tesla T3 ($900 each) power cords as well as Galileo Universal speaker cells ($2500/pair) and a Power Cell 10 SE Mk II power conditioner ($5000). Acoustic Geometry Acoustic Curve diffusers and room treatments ($279-$499 each) completed the system.
By mid-afternoon, the system had warmed up, settled in and was sounding very fine, and O'Hanlon supplied his usual highly eclectic mix of music. The Vivid loudspeakers, though not overly large, provided surprisingly powerful and extended bass. It is, of course, impossible to note the individual contributions of each component, apart from the speakers, but it was very easy to come to conclusions about this system as a whole. An Acoustic Sounds 45rpm reissue of Ella Fitzgerald and Louis Armstrong duetting on "Isn't This a Lovely Day?" had marvelous palpability, with neither Ella's bell-clear tones nor Satchmo's gravelly growl shortchanged in the least. Another duet, Ray Charles and Betty Carter's "Baby, It's Cold Outside," was equally charming and just as well resolved. "Come As You Are" from Nirvana's Unplugged in New York was exceedingly realistic and convincing. The system proved it could move a lot of air with a 45rpm version of "Mars" from Gustav Holst's The Planets (Mehta/Los Angeles Philharmonic) and the title track of the Clash's London Calling, one of the biggest and most dynamic rock recordings I know, at least in its British-pressed original, as was played here.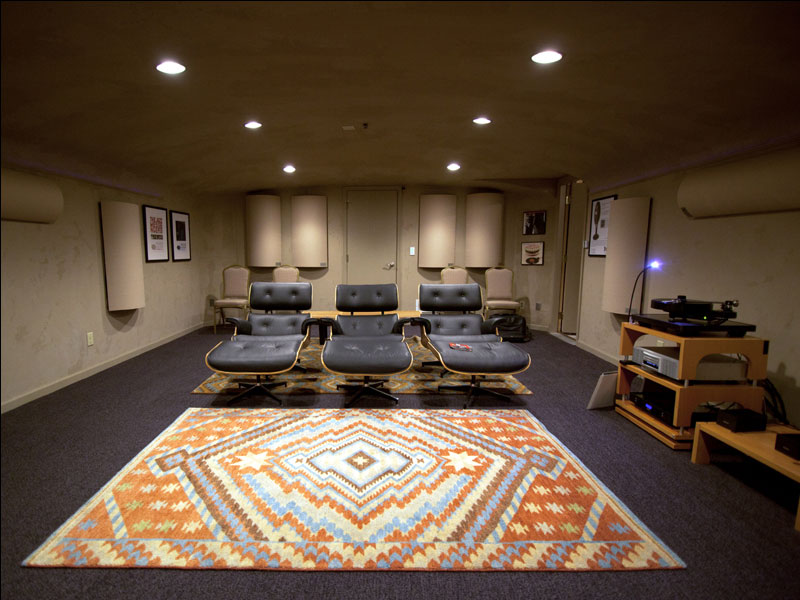 Detail and dynamic range were both plentiful, but the system's most outstanding quality was its ability to get out of the way and let the music clearly and convincingly speak for itself. This was above all a system for music lovers, not anal-retentive hi-fi nerds. Whatever Philip spun on the Bardo or the La Fontaine made me want to kick back and concentrate on digging the music as music rather than as a tool for analyzing the equipment -- no easy feat for an inveterate hi-fi critic.
As a coda for the Rocky Mountain Audio Fest, this system was the perfect warm-up for CES, where we'll be in early 2012.