No.15 is No.1
by Marc Mickelson | January 22, 2010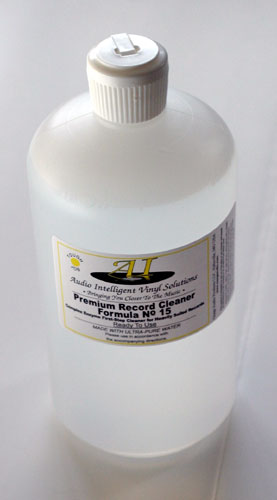 leaning LPs with a combination of the many different fluids and machines available today involves balancing two important things: effectiveness and time. You want your LPs to be as clean as possible, but you don't want to spend an eternity achieving it. There are always more LPs to be cleaned, so the time to hear the musical fruits of your labor becomes increasingly precious.
My personal journey to cleaner LPs began with the Walker Audio Prelude kit, which uses three different fluids and four separate applications. This translates to 16 steps per LP -- four applications of fluid and four cycles with the record-cleaning machine per side. I'm sure others can accomplish all this squirting, scrubbing and vacuuming faster than I can, but for me the Walker method required about ten minutes of work per LP. The Prelude cleaning regimen worked very well indeed, but at an hour to clean six LPs, it wasn't practical if I had stacks and stacks of dirty records to work through. A half-dozen double-LP 45rpm sets could eat up an afternoon. The expense was also prohibitive, with each LP costing about a dollar to clean, which was more than I paid for many of my LPs.
I migrated from the Walker system to products from Audio Intelligent Vinyl Solutions (AIVS), specifically the company's three-pronged attack on dirty records: an application of Enzymatic Formula ($37 per 32-ounce bottle), followed by one of Super Cleaner (also $37 per 32-ounce bottle), and finished with an Ultra-Pure Water rinse ($20 per 32-ounce bottle). This trio not only cut cleaning time by a quarter over the Walker Prelude system, it did so at significantly lower cost -- about half, once you add in the cost of application/scrubbing pads, which come with the Walker system but not with the AIVS fluids. Most important, it also worked just as well to my ears. The enzyme-based Enzymatic Formula took care of all manner of water-insoluble and protein-based stains, including mold-release compounds, fingerprints, fungi and bacteria. Super Cleaner Formula includes isopropanol, or isopropyl alcohol, which is a widely used and very effective solvent. Following these with a rinse of Ultra-Pure Water made for vinyl that was not only visually clean, often with a restored inky-black luster, it sounded clean too. I became bold in my buying, choosing LPs with all manner of stains because I knew the AIVS fluids could almost certainly take care of them.
Still, I longed for a faster way to achieve the same results, or darned close to them. The AIVS One-Step Cleaner ($29 per 32-ounce bottle) worked well with new LPs, but neither the Enzymatic Formula nor Super Cleaner with a water rinse was as effective as all three parts together. Last year, AIVS came up with a new cleaner, Premium Record Cleaner Formula No.15 ($45 per 32-ounce bottle), which was developed as a pre-cleaner for especially dirty records. Why No.15? It's the fifteenth newly developed formula AIVS has tested, with only a couple before it becoming actual products. Other than the water that's its base, No.15 uses none of the ingredients of any other AIVS cleaners. It has two lab-grade enzyme components and two detergent components, all chosen for their specific record-cleaning capabilities without causing harm to LPs, including to the very important stearates that bind and harden vinyl.
After No.15's release, a customer asked Jim Pendleton, head of AIVS, if he had tried it along with a water rinse as a two-part cleaning process. "We hadn't even thought of this," Jim told me. But after some testing, he made a fortunate discovery: "On all but the dirtiest records, No.15 followed by Ultra-Pure Water tested substantially as effective as our three-step system."
I would go even further: No.15 followed by a rinse of Ultra-Pure Water is just as effective on really dirty records as the three-step process, and there's no difference that I can see or hear with records that are a little dusty or brand new. I have lots of empirical evidence: I've emptied an entire bottle of the stuff and found it to clean tough stains like fingerprints and unidentified sticky goo better than anything else I've tried. One bit of convincing evidence: Shortly after opening the first bottle, I received an original mono copy of Louis Armstrong's Plays W.C. Handy [Columbia CL 591] that I bought from a seller on eBay. It looked like a few of the previous owners were lovers of fried food, which they ate with their hands before listening to this jazz classic. I was surprised when one application of No.15 got rid of the greasy smears on both sides of the LP, which could have been a half-century old, revealing a scratch-free surface. I finished with a water rinse, and the LP sounded as quiet as it looked. "I consider Premium Record Cleaner Formula No.15 to be a minor record-cleaning breakthrough," Pendleton is proud to say. "It offers superior results in substantially less time than enzyme-based products that have been on the market, including ours." I trust a manufacturer who includes his own products among those that have been topped.
I apply a half-inch bead of No.15 and then work it in with a Mobile Fidelity pad or one of AIVS's own cleaning brushes, letting it sit for a minute or two if the record is really filthy. It spreads evenly and with little effort -- no small points for a good record-cleaning fluid.
I've carped in the past about those who attribute some newfound sonic qualities to vinyl cleaned with one fluid or another. Yeah, and my car is faster after I run it through the car wash. The sound of clean vinyl is easy to recognize by its quietness. If some new cleaning fluid increases midrange presence or overall spaciousness, either the vinyl wasn't really clean to begin with, or the new fluid is leaving some residue on the vinyl that changes its sound. All I want from my clean records is less surface noise, and No.15 definitely delivers this.
I also want to spend less time cleaning records, and No.15 achieves this as well. It is the single best record-cleaning solution I've used -- for really dirty records or brand-new ones. It costs a little more than the other AIVS fluids, but this is offset by the fact that one bottle of No.15 replaces two bottles of other cleaners. Moreover, it increases the time you'll have to hear your records. It's what I'll be using from this point on, though I'll continue to daydream about cleaning records by thought alone.